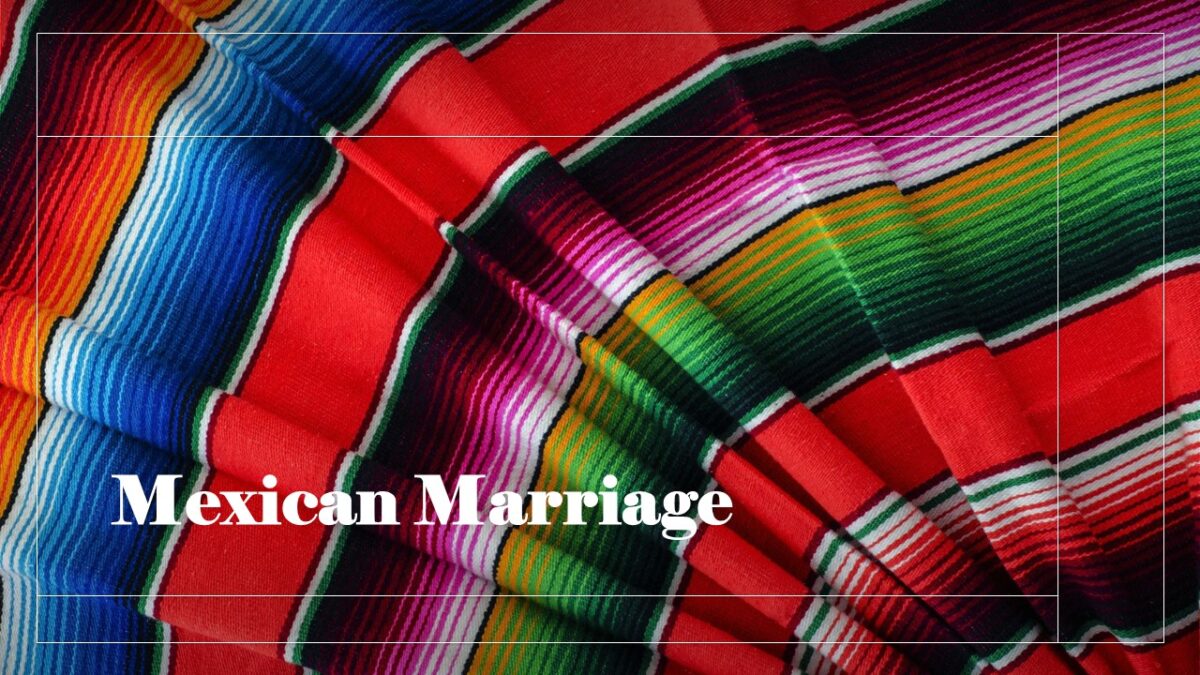 For years, Mexican society has been a collectivistic society, with strong family bonds and cultural values of "familism." People's selves were deeply imbedded in family relationships. And both men and women valued their strong connections with family.
Traditional Mexican Marriage
In traditional Mexican communities, marriages have customarily functioned to maintain societal order, bonds of commitment, and social reproduction. The connections of responsibility, respect, and reciprocal obligations hold a family together. Men and women understood relationships and the fulfillment of traditional gender roles as their "real love." Serving and caring for each other and for the common good of their family was the essence of marital love.
Romantic love is not a prerequisite for marriage. Intimate and companionate love and personal self-expression were of low value. Fulfillment of family duties for the sake of "familism" and good living together was of high value (Hirsch, 2007).
However, in the last 50 years, Mexican society, culture, and daily life have changed dramatically in both urban and rural settings. Men's and women's relationships have been transformed due to these cultural transformations.
Evolution of Mexican Marriage in Companionate Relationships
Accordingly, over these decades, Mexican marriages substantially evolved from the bonds of obligation to the bonds of love. The importance of love in premarital and marital relationships has grown significantly. The value of companionate love and relationships in marriage also increased (Hirsch, 2007).
The men and women of the younger generation speak about their marriage style in a new way, emphasizing making decisions together, talking, and spending time with their spouses and children.
Gender Equality in Modern Mexican Marriage
The marital lives of men and women have obviously shifted toward more gender equality. The gendered divisions of family labor are less stereotypical than before. Although some men may not wash clothes or change kids' diapers, they may get up to get a glass of water during a meal. Many men abandoned traditional machismo ideology, turning to a more egalitarian personal identity. Their masculine power is commonly intertwined with the seemingly more equal division of family labor. They become more involved in housework and caring for their children (Hirsch, 2003, 2007; Gutmann, 1996).
For many women, their gender roles and experiences have also changed. They tend to be more socially involved, work full-time jobs, and visit friends and relatives. They have more decision-making power in their relationships and families. Many couples have changed their communication styles. They are more open to talking about their feelings, communicating more politely, being considerate of one another, and respecting their mutual rights within marriage (Hirsch, 2003, 2007).
Intimacy and Trust in Modern Mexican Marriage
The most noticeable generational differences in marital ideals of love are the increased values of intimacy and trust. Men and women more often communicate with each other and develop intimacy by sharing secrets and kisses. After they are married, they build and maintain emotional and sexual intimacy in their marriage. They view pleasure as the driving force that holds their relationships together.
However, early romantic ideas and relationships do not always carry over to later marriage life. Let us look at the marital life of Gustavo and Veronica. They have been married for just over two years. He works as a stone carver, and she looks after their two-year-old daughter. Here is an excerpt of the interview that Veronica gave to Jennifer Hirsch:
"She told me, laughing, that they first kissed after only two weeks of dating and that he wrote her love letters while they dated. Once they married, she recounted, they had sex several times a day, keeping things spicy with the lingerie he bought her and the porn videos they occasionally watch. Gustavo, in his conversations with Sergio about their marriage, spoke as well about their intimacy, emphasizing not just its physical aspects but the fact that he wanted to marry her, rather than any of his previous girlfriends, because of the quality of their communication and the strength of their emotional connection. There are ways, though, in which Veronica's early married life differs little from her mother's experience. She and Gustavo live in a two-room shack, adjoining his father's house, which Veronica does not leave without his permission. She has no access to the money he earns – and is not even really sure how much it is. On Saturdays when the workday ends early, he will usually bring a kilo of deep-fried pork or rotisserie chicken for lunch – but sometimes he does not show up until the next morning, having left her lunch to get cold in the car while he drinks or plays pool with his friends. If she asks him where he was, he gets angry. Even if he wanted to leave her a message, though, he could not do so; his sisters hate Veronica – saying, among other things, that she is a whore because she worked as a waitress in a restaurant before they were married – and so they do not pass her telephone messages."

(Hirsch, 2007, p.95).